Units 15-16
Ford Lane Business Park
Ford Lane
BN18 0UZ
HALF CELL Digital Half Cell Probe
Used to identify areas of reinforced concrete in need of repair or protective treatment.
More info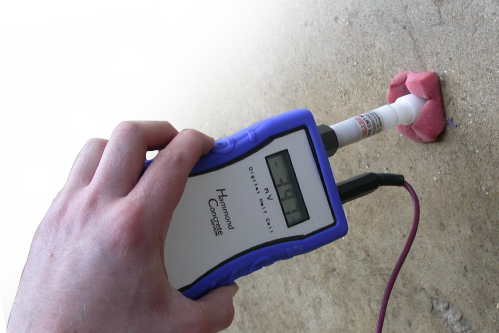 Hire or Buy Today! Call 01243 555 720
Overview
Corrosion of steel is an electrochemical process involving anodic (corroding) and cathodic (passive) areas on the metal.
By measuring concrete surface electrical potentials relative to a standard reference electrode on a predetermined grid, the presence and location of corrosion and its probable future performance may be assessed. Such diagnosis identifies areas where corrosion is present or about to proceed long before any physical damage is visible.
The technique may be used to identify areas of reinforced concrete in need of repair or protective treatment.
The probe consists of a highly stable silver/silver chloride element enclosed in a gel electrolyte saturated with chloride-ion. It has a screw-on cap fitted with a sintered glass plug for ionic conduction.
Note: The instrument automatically converts and displays measured potentials as equivalent copper/copper sulphate potentials.
Elcometer combined covermeter/half-cell apparatus
We also stock the Elcometer range of concrete covermeters some of which also have a half-cell accessory. These easy to use half-cell meters have sealed electrodes in either copper or silver.
Specification
Meter Dimensions: 150 x 80 x 35mm
Half-cell: Re-fillable Silver/Silver Chloride/Sat KCI
Input Impedance: 33MΩ
Display: 3.5 digit plus sight via 12.5mm LCD
Range/Resolution: +1999mV ± 1mV
Controls: On/off switch incorporated in reference lead connection
Battery: MN 1604 alkaline giving typically 1000 hours of use with low battery warning indication on LCD
Usage
How to use: The survey procedure is firstly to locate the steel and determine the bar spacing using a covermeter. The cover concrete is removed locally over a suitable bar and an electrical connection made to the steel. It is necessary to check that the steel is electrically continuous by measuring the resistance between two widely separated points. The reinforcing bar is connected to the Half Cell via a digital voltmeter. Readings of Half Cell potential are taken over a regular grid of points (say 50cm apart) to give a potential map of the area.
Contour lines may be plotted between points of equal potential to indicate those area that have the creates rise of corrosion.
How to read results:
For copper/saturated copper sulphate electrode:
Potential Level
(mV vs CSE)
% Change of steel
(Corrosively Active)
-350 to -500
95%
-200 to -350
50%
-200 and over
5%
If you have any further questions about how to read the results, email or phone us and we can help you out.